LaMettry's is an industry leader, embracing technology and the latest methods and processes, while maintaining our independent, family-owned culture. Our Vision guides us in everything we do, from our interactions with our customers and vendors, to our co-workers and staff:
"Leading the automotive repair industry with commitment to the finest workmanship and treating all people and vehicles with the utmost respect."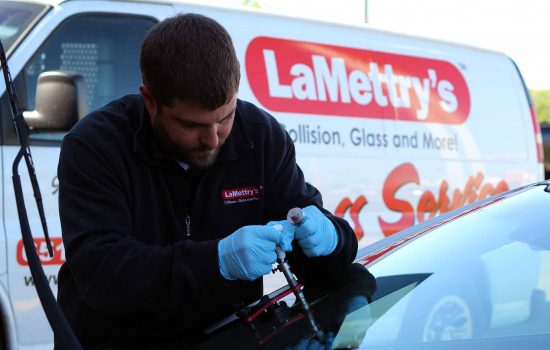 Specializing in collision repair means that all of our technicians and staff require regular training and certification, allowing you as our team member to keep developing your skills and knowledge. We promote from within, offering you opportunities for advancement, and a chance to grow with the company.
We participate in select direct repair programs that align with our vision and values of industry leading repairs. We also seldom use non-OE parts and always follow our customers' directions.
Finally, we know that happy employees are the backbone of our reputation and the key to customer satisfaction. That is why we provide competitive salaries, a pleasant work environment, a team ready to give you support (and the occasional cup of coffee), and various other benefits.
If you're looking for a place that will help you grow, take a look at our career opportunities listed below and send us your application!
If you prefer, you can download our body shops' employment application. Once you've filled it out, please email to info@lamettrys.com, drop it off at one of our collision centers, or mail it to us.
From Chanhassen to Maplewood, stop by any of our ten locations for a free estimate. You'll find us there during our business hours, Monday through Friday, from 7:00am to 6:00pm.
We encourage all customers to book an appointment before coming in to ensure the best customer experience possible.